How will you fill your days when you're vacationing in Palm Springs? We don't think any stay here is complete without retail therapy. From outlet malls to retro shops to independently owned boutiques, shopping in Palm Springs has something for everyone! 
Do you want to find out more hidden secrets about the Palm Springs area? Take a look at our Palm Springs Vacation Guide! It contains local insight into all the best things to see and do in the area. 
Get Our Free Palm Springs Vacation Guide 
The Best
Shopping in Palm Springs
Are you ready to discover handcrafted souvenirs, fabulous clothing, one-of-a-kind décor, and more? Then you need to experience shopping in Palm Springs! 
Do you appreciate a fantastic outlet mall? Head to Desert Hills Premium Outlets! Here you'll find over 150 top-notch designer stores at discounted rates. It's a short drive to the outlets from Palm Springs, but if you love shopping brands like Levi, Prada, J. Crew, Coach, and more, it's totally worth it! 
View this post on Instagram
The Uptown Design District is filled with retailers specializing in all things mid-century modern. Take a stroll down Palm Canyon Drive and find contemporary designs in art and fashion that embody Palm Springs. Plus, this area is home to some of the best up-and-coming restaurants in the Coachella Valley.   
The El Paseo Shopping District is a one-mile stretch of high-end stores and charming boutiques, also known as The Shops on El Paseo. Think of it as the Rodeo Drive in Los Angeles of Palm Springs! Roam the area and stop in art galleries, jewelry stores, restaurants, and more.  
View this post on Instagram
Head to The Backstreet Art District to get your hands on items you won't find anywhere else. Here you'll find dazzling fine art pieces from local artists, handcrafted jewelry, unique sculptures, and beautiful photographs. Art walks take place each month when you can take intimate tours of the studios.  
A visit to Downtown Palm Springs is a must for any visitor to the Palm Desert. You can spend your day searching for antique treasures at thrift stores or resort wear at designer boutiques. Plus, some of the best restaurants in the area can be found downtown, so after you've shopped until you drop, you can enjoy a delicious meal in an air-conditioned eatery.  
The Best Palm Springs Vacation Rentals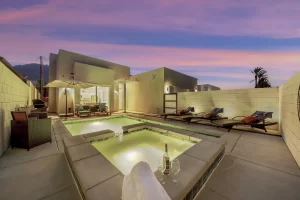 Where will you make your home away from home during your stay in Palm Springs? Look no further than Vacanza Stays! We offer a large inventory of top-notch rental properties that embody the spirit of Palm Springs. No matter how small or large your group you're traveling with, he has the perfect home for you. Plus, we offer superb amenities, such as in-ground swimming pools, hot tubs, outdoor firepits, game rooms, and more.
Coming with the little ones? Browse our properties with a crib, high chair, and most importantly, parking!