Are you looking for fun ways to spend the holidays in Palm Springs? In this guide, we'll take you through the best ways to celebrate holidays in this desert oasis. Whether it's Valentine's Day or New Year's Eve, Palm Springs is a gorgeous place to be any time of year and perfect for every holiday. Read on to discover exciting things to do with your family for the holidays in this beautiful vacation destination!
Looking for even more recommendations? Download our free Vacation Guide for a great list of attractions, things to do, and top-recommended restaurants. Start filling up your itinerary by downloading today!
REQUEST YOUR FREE TRAVEL GUIDE
Celebrate Year-Round Holidays in Palm Springs
Valentine's Day
Valentine's Day in Palm Springs is all about love and romance. Start with a couples' spa session at a renowned Palm Springs spa like Andreas. Then, savor a romantic dinner at top restaurants, such as Lavender Bistro, with special Valentine's Day menus.
Independence Day in Palm Springs
Fourth of July in Palm Springs offers a day filled with diverse activities. Begin with a scenic hike or a tram ride for breathtaking views. Enjoy picnics in local parks amid natural beauty. As night falls, choose from various captivating fireworks shows, ensuring a day of patriotic family fun.
Halloween
Palm Springs hosts many spooktacular Halloween celebrations with live music, food, drinks, and costume contests. Enjoy the Halloween Spooktacular Skate at Berger Foundation Iceplex. Or visit the Riverside County Scare & Pumpkin Festival for camel rides, super slides, and a haunted house. Halloween in Palm Springs offers frightful fun for all ages.
Thanksgiving
Thanksgiving in Palm Springs means you can enjoy your turkey dinner al fresco! The warm climate allows for glorious outdoor dining, and many local restaurants offer special Thanksgiving menus like at the Grand Central Palm Springs. Whether you dine out or cook in your fully-equipped vacation rental kitchen, it's a day to give thanks and savor the beauty of the desert.
Christmas in Palm Springs
Explore dazzling Christmas lights at The Living Desert Zoo and enjoy the festive Festival of Lights Parade. Don't miss Santa's Fly-In at the Palm Springs Air Museum and a stroll along the charming Walk of Inns. And for a delightful meal, savor special Christmas menus at local restaurants like Lulu Bistro. Palm Springs offers a memorable holiday experience for all.
New Year's Eve
Palm Springs offers a variety of ways to celebrate New Year's Eve, including glamorous galas, fine dining, live jazz performances, and disco parties. There's something to suit every taste and style as you welcome the new year in this vibrant city.
Stay in Luxury for Holiday Events in Palm Springs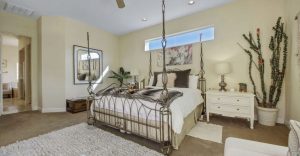 Holidays in Palm Springs offer a unique and unforgettable experience. Palm Springs has it all, whether you're celebrating Valentine's Day with your special someone, enjoying a patriotic Fourth of July, or savoring a Thanksgiving feast in the desert.
And when it comes to accommodations, Vacanza Stays offers the perfect blend of luxury and down-to-earth comfort. Our vacation rentals are near the best attractions, golf courses, and restaurants. With amenities like a private jacuzzi, outdoor fireplace, and sports courts, you'll have everything you need for a fantastic holiday stay.
Don't miss out—book your holiday getaway with Vacanza Stays today!