The best hiking Palm Springs offers is a call to adventure, attracting every hiker with its sun-kissed trails and mesmerizing landscapes. Though the area is known for its mid-century modern architecture and vibrant nightlife, the charm of its trails is an undeniable draw for outdoor enthusiasts.
If you're looking for more ways to fill up your vacation itinerary, get our free Vacation Guide. It has top recommendations for exciting attractions, must-do activities, and delectable dining to make your Palm Springs adventure unforgettable.
Request Your Free Travel Guide
Uncovering the Best Hiking in Palm Springs
The rugged terrain and scenic desert beauty of Palm Springs provide a picturesque backdrop for hikers and is a popular destination point for travelers. Here's a detailed guide to some trails showcasing the best Palm Springs hiking trails.
Indian Canyon Trails
Difficulty: Ranges from easy to moderate
Trail Type: Loop
Length: 1 to 15 miles
Highlights: The Indian Canyons offer a diverse hiking experience with trails for beginners and intermediate hikers. Along the well-marked trails, discover native flora, fauna, clear streams, and historic palm groves from the era of the Agua Caliente Band of Cahuilla Indians. The scenic beauty and tranquil atmosphere make it a top choice for exploring Palm Springs' natural landscapes.
Joshua Tree National Park
Difficulty: Moderate
Trail Type: Loop and Out-and-back
Length: Varies
Highlights: Joshua Tree National Park is a captivating locale known for its stark desert landscapes, iconic Joshua trees, and mesmerizing rock formations. Trails here are generally of moderate difficulty, with the length varying to accommodate both short and long hikes. You'll be treated to panoramic vistas showcasing the vast desert expanses as you explore. The park fee is $30 per vehicle, which is valid for 7 days. Facilities like restrooms, visitor centers, and campgrounds are available, making it a comfortable destination for hiking near Palm Springs.
Cactus to Clouds Trail
Difficulty: Challenging
Trail Type: Point-to-point
Length: 20 miles
Highlights: Embark on the demanding Cactus to Clouds Trail, a 20-mile journey from Palm Springs' desert floor to San Jacinto Peak. Known as one of Southern California's most challenging hikes due to steep elevation gains, it's tailored for experienced hikers. Besides a sense of accomplishment, the trail offers varied landscapes and awe-inspiring views.
Hiking Preparation and Safety
Preparation is vital for a safe, enjoyable hike. Begin with a quality hat and layered clothing for sun protection and cooler temperatures at higher elevations. Carry ample water and pack hearty snacks like trail mix and energy bars. A compass and map are essentials, while a phone charger and basic first-aid kit address unexpected situations.
A Luxurious Retreat in Palm Springs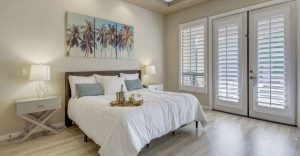 After exploring the best hiking Palm Springs offers, consider a vacation rental for the week. Our luxurious homes are close to scenic trails, ensuring your outdoor adventures transition seamlessly into beautiful and restful evenings.
Our properties are more than just a place to stay—they are your home away from home. They're conveniently located near golf courses, parks, shops, and restaurants. Spacious enough for families, they offer home-like comfort with a private jacuzzi, outdoor fireplace, and BBQ. Enjoy endless fun with onsite tennis, basketball, volleyball, and pickleball courts!
Book your vacation with Vacanza Stays today and start planning an unforgettable family vacation in Palm Springs!