A day trip from Palm Springs to Joshua Tree is an invitation to explore the unexpected. The quaint charm of Palm Springs gradually gives way to the rugged allure of Joshua Tree, presenting a day filled with adventure and discovery.
To add more exciting things to your vacation itinerary, download our free Vacation Guide for insightful recommendations on local attractions, activities, and amazing dining spots.
REQUEST YOUR FREE TRAVEL GUIDE
Embrace the Desert Wilderness: Palm Springs to Joshua Tree
The journey from Palm Springs to Joshua Tree is more than a drive—it's a transition from urban elegance to natural splendor. Here's how you can make the most of your day trip.
Horseback Riding in Joshua Tree
Traverse the scenic trails of Joshua Tree National Park on horseback. Several local companies offer guided tours, ensuring a safe and enjoyable ride through the desert landscape.
Rock Climbing
If you are an avid rock climber, Joshua Tree is your playground. With over 8,000 established rock climbing routes, the park attracts climbers from around the globe. The most popular climbing spots include the Hidden Valley, Echo Cove, and Wonderland of Rocks.
Visit The Integratron
For a dose of the unconventional, pay a visit to The Integratron. This iconic structure hosts sound baths and meditation sessions, offering a unique blend of history, science, and relaxation.
Panoramic Scenery from Keys View
Bask in the breathtaking panoramic views from Keys View. The elevated vantage point provides a sweeping view of the Coachella Valley.
Tour of Keys Ranch
Delve into the local history by touring Keys Ranch. This historical homestead offers a glimpse into the lives of early settlers, portraying their struggle and perseverance.
Explore Rock Formations
The ancient rock formations in Joshua Tree are a testament to the earth's age and geological history. Some rocks date back 1.4 to 1.7 billion years, presenting a surreal and picturesque landscape. Some popular ones include Skull Rock, Heart Rock, Penguin Rock, and many more!
Directions to Joshua Tree National Park
To get to Joshua Tree, head east on CA-111 N, merging onto I-10 E towards Indio. Exit at 117 onto CA-62 E, leading you straight to Joshua Tree. The 50-mile drive, roughly an hour's drive, is best started early to catch the morning sun brightening the desert landscape.
Practicing Safety in a National Park
Ensure a safe adventure by taking plenty of water and energy-boosting snacks. Dress in comfortable clothing and footwear with good ankle support. Take a hat, sunscreen, bug spray, and lip balm. Adherence to park guidelines, staying on marked trails, and heeding posted warnings are crucial. Before heading out, check the weather and park conditions, and always carry a map and compass as a wise precaution.
Relax and Recharge at Vacanza Stays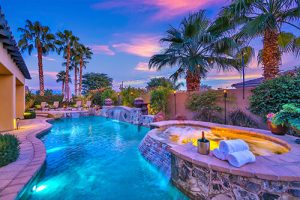 Retreat to one of our gorgeous properties after a thrilling day trip from Palm Springs to Joshua Tree. Our vacation rentals in Palm Springs offer luxury and cozy comfort near prime attractions.
Enjoy private amenities like a jacuzzi, outdoor fireplace, and on-site sports facilities for endless family fun. Check availability and book your vacation today!